Since topping at $10,500 two weeks ago, Bitcoin hasn't fared well. The price of the leading cryptocurrency has fallen off a proverbial cliff, falling as low as $8,520 in the past 24 hours on the back of millions in liquidations, marking a drop of 19% since the aforementioned top.
With this move, Bitcoin has found itself forming a downtrend. Although there are some sure that a bounce is imminent, citing the asset's ability to bounce off crucial technical support at the 200-day exponential moving average, two analysts are warning of a deeper retracement that may take BTC below the $6,000s.
Bitcoin Could Plunge Under $6,000, Analysts Warn
The first analyst on Wednesday shared the below chart, showing that there are clear similarities between Bitcoin's price action in the 2013-2015 bubble and the price action over the past year; both periods saw a vertical run-up into a blow-off top, a death cross after the price started retracing, and a subsequent golden cross when the price started to show signs of a recovery.
Bitcoin following the trail blazed by its historical price action in 2014 and 2015, which is possible due to the similarities of the 50-day and 200-day moving averages, will see it fall in the coming months to fresh lows under $6,000s.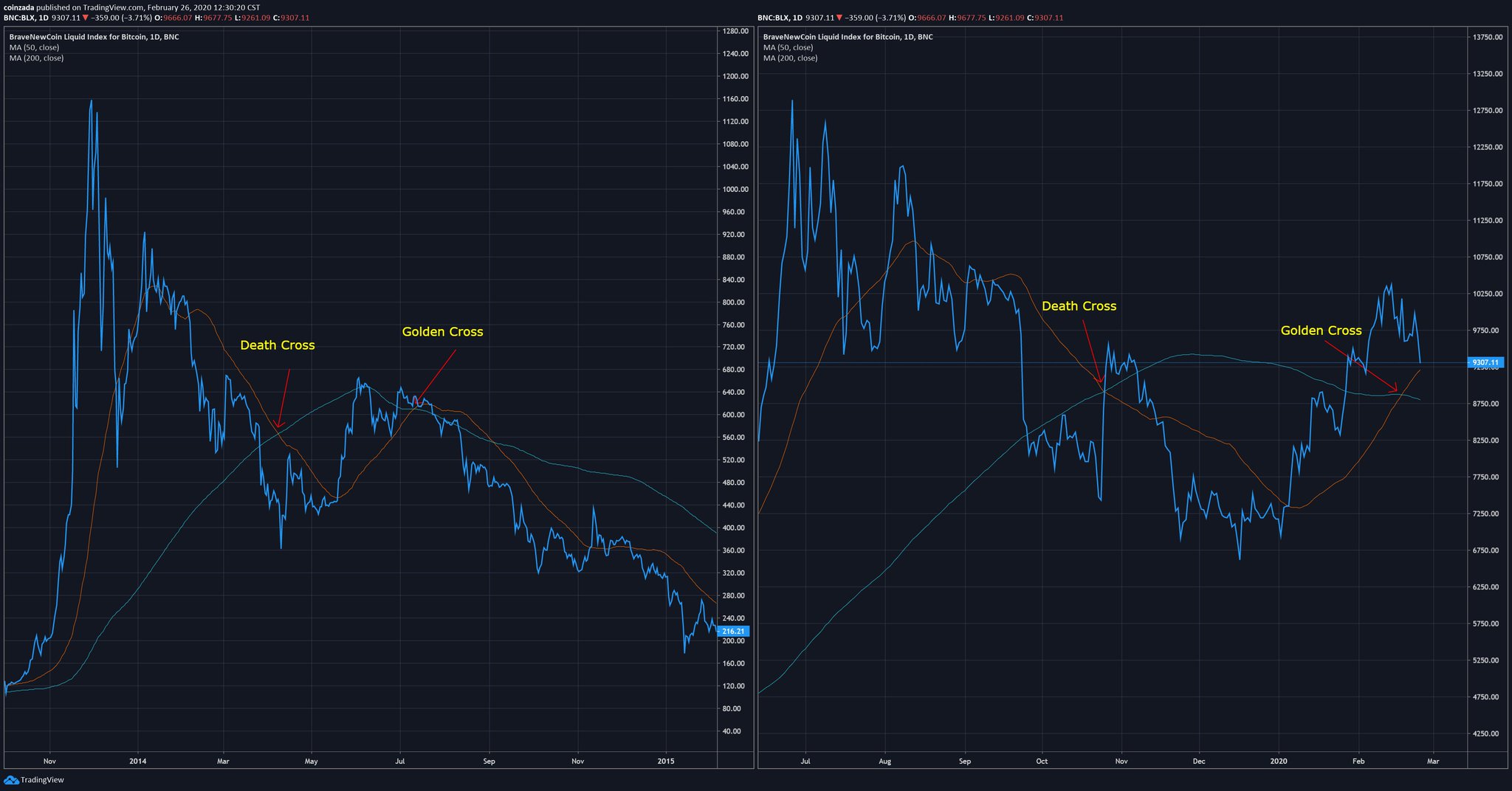 Per previous reports from NewsBTC, Mac, a prominent crypto trader, mused that the market structure on BitMEX suggests that "$6k might not have been the bottom after all":
"Legit boys, $6k might not have been the bottom after all. This OI, Basis, Funding is worse than Oct 2018," he bearishly noted.
He was referring to the fact that these three metrics suggests bulls are still overleveraged, which means that to equalize the market, Bitcoin will need to fall a lot further than where it is currently trading at.
Bearish Sentiment Might Be a Sign of A Bottom
While there exist these analyses, some have said the overly bearish calls that have been posited by traders suggest a near-term bottom is imminent. This is in reference to the somewhat unorthodox market trick that suggests buyers should be optimistic when the majority is overly bearish, and vice-versa. As said by (Bitcoin skeptic) Warren Buffett:
"[Be] fearful when others are greedy and greedy when others are fearful."